March 2018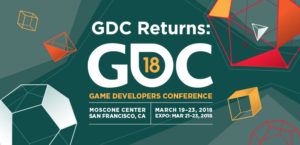 March 19-23, San Francisco, CA: GDC Indie Summit and SONIC TOAD MEDIA'S FIRST GDC PARTY!
I won't be speaking at GDC, but I will be in town all week and at the Welcome Dinner the Sunday preceding the conference.
Going to be at GDC? I'm on the GDC app and feel free to hit up my contact page if you'd like to set up a meeting! If you'd like an in-person consultation while we're all there that can also be arranged after the fee has been paid.
I'm proud to announce that I was selected for the IGDA Mentor Cafe for GDC 2018 on Thursday night, March 22! If you're a student or indie developer looking to build a life and career by your design, please see the IGDA GDC 2018 page for more details!

Sonic Toad is also having its first GDC party! WEDNESDAY NIGHT, MARCH 21!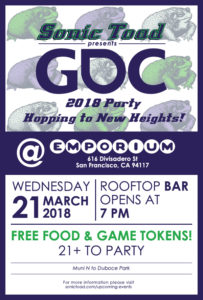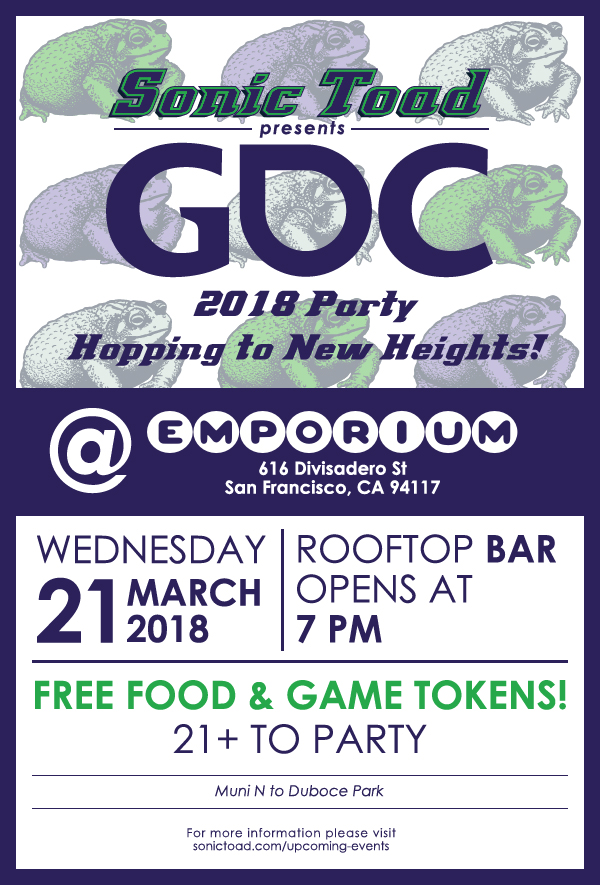 Secure your spot on Eventbrite, it's not required but super helpful! No cover charge, this just helps me and the manager get some idea of head count!
(And if it says there's no more tickets, don't worry-- you can still come. People will be wandering in and out.)
I'll be getting some nice catering and providing free game tokens while we chill and network in gorgeous Haight-Ashbury at the rooftop bar: Sonic Toad wants to help you hop to new heights!
More deets on the Eventbrite page and you can check out The Emporium here. (There's pinball and lots of classic arcade games!) Party starts at 7 and we got the rooftop til 11, and since it's huge we can continue the party downstairs or see where the night take us. Hope to see you there!
---
April 2018
 April 17-19, Raleigh NC: East Coast Game Developers' Conference
Room and Date: TBA
I will be giving a talk on indie developers and change management, as that is the theme for Sonic Toad in 2018!
---
May 2018
May 24-27, Hamilton, ONT: 18th Annual North American Congress on Basic Income
McMaster University, Hamilton, Ontario
Room and Date: TBA
As an advocate for universal basic income, I'm thrilled to be back with NABIG for their 2018 conference and will be holding discussion on adult survivors of child abuse and the necessity for a basic income. More details can be found on the NABIG 18 page.
Before you go, have you signed up for the Toad Tribune? You'll get exclusive discounts for live and online classes!